Shanghai Daily: Museum honors a pioneer of Chinese design
The abstract patterns of flowers, leaves, butterflies and landscapes may remind you of the floral wallpapers designed by William Morris or illustrations from Aubrey Beardsley. But actually they are textile designs made in the 1920s by Chinese artist and art educator Chen Zhifo (1896-1962).
"My father taught art and design all his lifetime, but nowadays people take him (merely) as a traditional Chinese realistic painter," Chen Xiufan, Chen Zhifo's daughter, said at a retrospective exhibition which is underway at the Crafts Museum of the China Academy of Art in Hangzhou.
The exhibition gathers more than 260 pieces of Chen Zhifo's work covering textiles, book covers and magazines, his manuscript letters and the traditional Chinese bird-and-flower paintings produced in his later years in Nanjing, Jiangsu Province.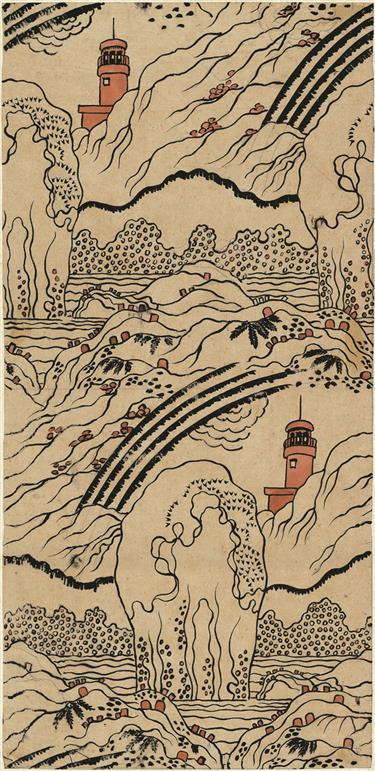 A landscape textile design by Chen Zhifo made between 1925 and 1927 in Shanghai
It is part of a series of exhibitions honoring pioneers of Chinese modern design and modern design education since the 20th century. The first exhibition, showcasing the life and work of Lei Guiyuan, was in 2016.
"Those masters' design work and design concepts have a far-reaching influence on the whole society. In my mind, Chen is such a master," Hang Jian, vice president of the China Academy of Art, told Shanghai Daily.
Born in Yuyao, Zhejiang Province, Chen was the first Chinese to study design in Japan. In 1919, he was admitted to the department of design at the Tokyo Fine Arts School.
When he returned, Chen established the Shangmei Design Studio in Shanghai in 1925, which, according to his student Zhang Daoyi, was an "unprecedented new thing" in China. For the first time, design was taken as an independent profession at a time when mass production emerged and prospered.
Most of the textile designs in the exhibition were produced during the studio's two-year operation in Shanghai.
"Before the War of Resistance Against Japanese Aggression (1931-45), fabric printing factories only used patterns from abroad. My father thought we should have our own designers and design patterns," Chen Xiufan said.
Chen Zhifo's Egyptian-style patterns became popular.
Deng Bai, another of his students, said Chen drew inspiration from a wide range of cultures, pictorial art on Greek pottery, motifs on Persian carpets, Indian decorative paintings and the ancient murals in the Mogao Caves, brocade and embroidery designs from the Ming (1368-1644) and Qing (1644-1911) dynasties.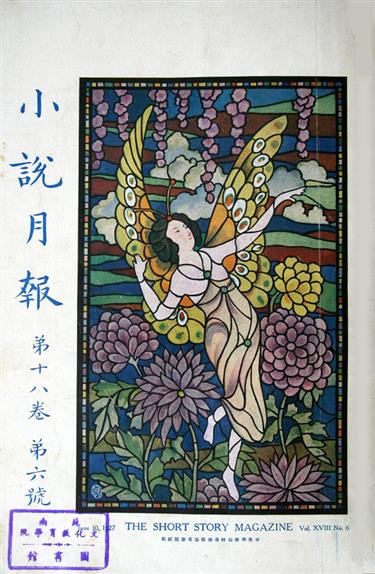 A cover designed by Chen Zhifo for The Short Story Magazine, Vol. 18, No. 6, in June 1927
Chen summarized his design thinking in 16 characters, where he "seeks unity out of disorder, wholeness out of individuality, peculiarity out of insipidity and novelty out of regularity."
He also did book cover designs. From 1925 to 1930, he was commissioned to design covers for "The Eastern Miscellany." The biweekly magazine, initiated by Commercial Press, was the longest-standing magazine in China throughout the first half of the 20th century, covering diverse topics from home and abroad.
In one issue published in January 1927, Chen employed the continuous motif of the Chinese ruyi (a long curved decorative amulet symbolizing power and good fortune) pattern to form a heart-shaped wreath around the Chinese and English titles of the magazine, both in handwritten fonts.
In another issue in 1929, a set of Han Dynasty (202 BC-AD 220) people riding in a carriage or on a horse, probably taken from brick paintings of the time, were used as decorative elements on the cover.
The brightly colored romantic women that he painted on the covers of "The Short Story Magazine," who were either flying between flowers or playing instruments, could be seen as his efforts to combine traditional Chinese aesthetics with the Art Nouveau style prevalent in the West in the early 20th century.
"Most of the book covers he designed were not relevant to the content inside, his purpose was just to adorn. There were a few that he did it in a realistic manner, but a great part were symbolic images," said Hu Dijun, a researcher at the Chen Zhifo Art Museum in Cixi, Zhejiang Province.
Above all else, Chen was primarily an art educator whose students had a great impact on the design industry in the last few years of the 20th century.
After graduating from Japan and working for a time in Shanghai, he spent most of his years in Nanjing, teaching art and design at the then National Central University and the newly established Nanjing Normal College in the 1950s.
From 1942 to 1944, he was president of the interim National School of Art, an amalgamation of two art schools which were the precursors of the present Central Academy of Fine Arts in Beijing and the China Academy of Art in Hangzhou.
In his short tenure in Chongqing, Chen moved China Academy of Art from an isolated mountainous area to a more convenient flatland beside Jialing River. He expanded the school buildings and invited the top artists at the time to teach, among them sculptor Liu Kaiqu, traditional Chinese painter Fu Baoshi, and Zao Wou-Ki who later moved to France and experimented with abstract painting.
Chen encouraged and supported his students all his life. A piece of transcribed exam paper with a note saying "the best paper in the 1946 exam for the official study abroad program" shows his great appreciation and care for young talent.
"When he was alive he always told his students to take benefits from a broad array of knowledge," said his daughter.
Date: Through March 28
Address: Crafts Museum, China Academy of Art, 352 Xiangshan Rd
Admission: 10 yuan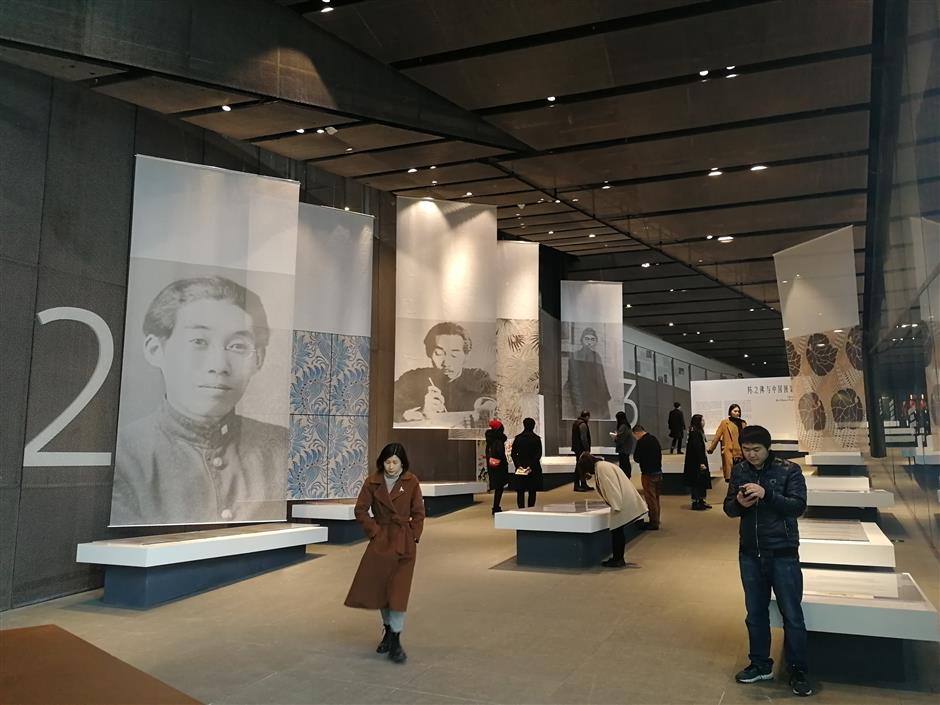 An exhibition is underway to showcase the life and work of Chen Zhifo at the China Academy of Art in Hangzhou.