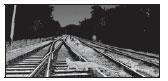 Have a Nice Day, the best animated feature winner at the Golden Horse Awards in November, will open across the Chinese mainland on Friday. Unlike most animated films with a happy tune to please children, the 77-minute feature is a dark tale for adults.
Set in Nanjing, the capital of Jiangsu province, the story unfolds with a driver Xiao Zhang, who steals money from his boss to salvage his girlfriend's failed cosmetic surgery, embarking on a series of bloody conflicts.
It is the second directorial feature for Liu Jian, an associate professor with the Hangzhou-based China Academy of Art, who prefers to do serious films about social topics.
"Animation is an artistic form to showcase my views.... I will continue to make them, as they may find favor with those who admire these kinds of movies," says Liu.
Critic Shi Hang says the movie showcases a society with marginalized, struggling people, and takes an in-depth look at issues that few animated movies have explored. It will be distributed in more than 30 countries and regions.