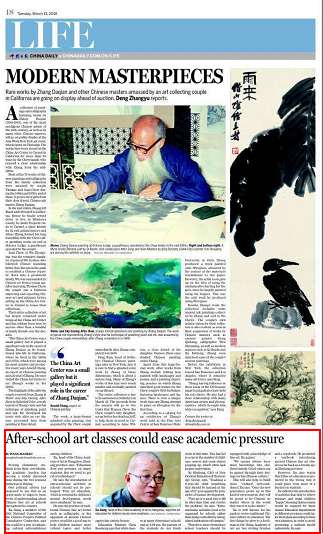 Freeing elementary students from their overwhelming academic burden has become a widely discussed issue during the two sessions underway in Beijing. One political adviser has proposed to use this as an opportunity to improve basic levels of understanding about Chinese fine art at schools throughout the country.
Xu Jiang, a member of the 13th National Committee of the Chinese People's Political Consultative Conference,says this could be a way of enhancing cultural self confidence among children.
Xu, head of the China Academy of Art in Hangzhou, Zhejiang province, says: "Education does put pressure on many students. But we need to get rid of redundancy."
He says the introduction of extracurricular activities at schools should not be prolonged.
"Fine art education, which is essential for children's mental development, needs more emphasis," he says.
He says the practice of traditional Chinese fine art forms such as calligraphy, or the appraisal of ancient Chinese poetry, would be a good way to help children nurture more refined tastes and better appreciate artistic beauty.
Education Minister Chen Baosheng says that while classes at many elementary schools end at 3:30 pm,the parents of the students do not finish work at this time. This has led to a rise in the number of childcare centers and cram classes popping up, which often lack proper supervision.
Yu Minhong, CEO of New Oriental Education & Technology Group, says, "Teaching a 6 year old child something that should be learned at the age of 15" goes against the principles of human development.
"Fine art is a good way to fill in after class time and resolve the problem," Xu says. "Extracurricular activities need to be organized by schools rather than being controlled by unregulated institutions off campus."
Therefore, more elementary school teachers should be equipped with a knowledge of fine art, Xu argues.
"We cannot always force more knowledge into children's minds. Good values can be gained through their feelings for fine Chinese culture."This will also help to build more "cultural self confidence",Xu says. "Once the new generation grows up in this kind of environment, they will be proud to be Chinese no matter where in the world they travel to in the future."
Xu is well known for his push to revive traditional Chinese culture in education. The first things he gives to a freshman at the China Academy of Art are two writing brushes and a copybook. He promoted a textbook introducing ancient Chinese fine art classics as far back as a decade ago in Zhejiang province.
However, Xu also warns that if fine art education is promoted in the wrong way, it could place even more of a burden on students.
He called for the introduction of activities that help to relieve pressure and make children "happy", stressing that no exams would be equired for these classes. Education departments in different provinces could tailor their plans according to their own situation,in order to avoid promoting a uniform model nationwide, Xu says.