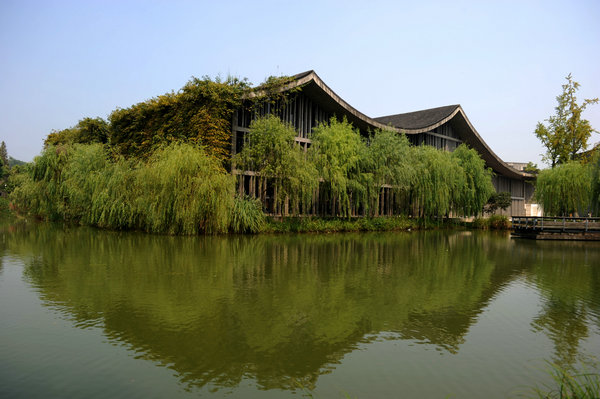 The Xiangshan Campus of the China Academy of Art, designed by Pritzker Prize winner Wang Shu, is a popular tourist destination in Hangzhou. [Photo/China Daily]
Xu Jiang, director of the China Academy of Art, rushed to Zhejiang's provincial capital Hangzhou, from Beijing on Thursday after the end of the first session of 13th Chinese People's Political Consultative Conference National Committee.
This was because the CPPCC National Committee member had an urgent photo shoot to attend.
The next day, he joined more than 500 teachers and students from the academy at the foot of Gushan Hill by the West Lake, the best-known landscape in Hangzhou. The group gathered there to honor their predecessors who founded this school, one of the most prestigious cradles of learning for artists in China.
In 1928, around 30 faculty members and 50-odd students from the school took a similar photo at the same spot shortly after its inauguration. Among them were many top names from Chinese art circle such as Lin Fengmian, Pan Tianshou and Li Keran.
The location of the academy's campus has changed four times over the years. In the latest group photo there are many foreign faces. But Xu says the school remains true to its ideals.
"Students today still follow the principles of the founders," says Xu, 63.
"The pursuit to blend cultures is not out of date even now. In 1928, it was revolutionary as Chinese traditions were labeled as old, compared with 'newer' Western ones."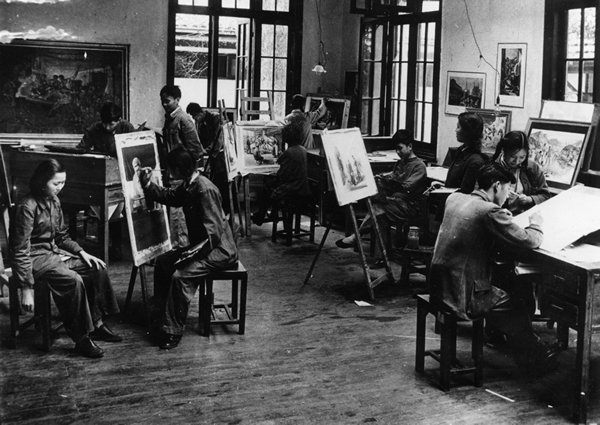 A classroom featuring students of the China Academy of Art in 1955. [Photo/China Daily]
Xu, an acclaimed oil painter, who has led the CAA since 2001, says the institution's creation of a complete academic system was a major achievement for the school.
Then, it was a breakthrough for a Chinese fine art school to introduce Western sculpture and set up a design school.
Xu also says that the CAA, which is also his alma mater, is the perfect place to launch a revival of Chinese traditional culture.
"Thanks to our affinity to the West Lake, many artistic styles developed here are deeply rooted in Chinese philosophy," says Xu, who half-jokingly refers himself as "a poet".
"When you reside by the lake, which has a rich history, you gradually develop feelings and you cannot help expressing them in poetic ways. That's why the academy has always been a major source of Chinese fine art."
The CAA has also been in the forefront of experimentation thanks to the West Lake influence.
Giving an example of this, he says that shortly after taking up the director's office, he established a school for animation, one of the earliest in Chinese fine art schools.
Also, every freshman was given a pair of writing brushes and a copy book to promote calligraphy.
One of his biggest gambles, Xu says, was to invite his friend Wang Shu to start an architecture department in 2007.
An architecture department had never been set up within a Chinese fine art school.
Wang's methodology is unconventional: He teaches students carpentry and even encourages them to write novels, claiming they inspire craftsmanship and creativity.
Recalling his gamble, Xu says: "I was under heavy pressure for supporting him.
"People could not understand his architecture at first. However, as consciousness for traditions developed, the criticism died down."
Wang won the Pritzker Prize in 2012, the first architect of Chinese nationality to win the world's top architecture award. And the Xiangshan Campus of the CAA, designed by Wang to recreate the atmosphere of the traditional Chinese countryside, is now a popular tourist destination in Hangzhou.
Reflecting on his experiences while leading the CAA, Xu says it is crucial that the academy remains a pathfinder.
The academy's history has been compiled into an encyclopedic work called China Academy of Art: A Journey of 90 Years, comprising 16 volumes. It was published earlier this month to mark the academy's 90th birthday.
Meanwhile, a commemorative exhibition, which offers a panoramic view of the development of the CAA is to be inaugurated at the National Art Museum of China in Beijing on March 25.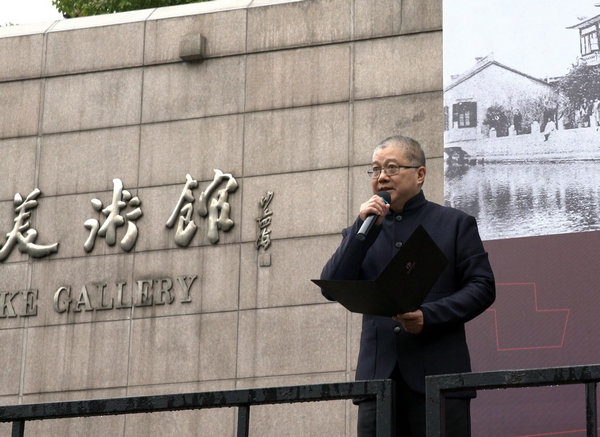 Xu Jiang, director of the China Academy of Art, speaks at the ceremony on Friday to mark the 90th anniversary of the academy's founding. [Photo/China Daily]
With the publication and the exhibition, Xu aims to create a comprehensive academic system of Eastern aesthetic values - a work he compares to the Renaissance - to promote the country's cultural confidence.
Explaining his idea, he says its differs from so-called "Orientalism" in which Eastern cultures were judged from a Western perspective. "With a clear understanding of Chinese paintings and other visual art forms, we can better reflect our identity and speak for our own cultural consciousness in the world," he says.
"When we revitalize our traditions, it's not to simply copy old formats," Xu says. "We need to give it space and let its roots grow in modern society."
Separately, he says that media channels like animation and art design in films can showcase the Chinese aesthetics.
Despite his moves to promote Chinese aesthetic values, Xu says his aim is not to have an ethnocentric movement. Just as his predecessors did in 1928, Xu, who studied oil painting in Germany, seeks to include Western art.
For instance, the CAA's China Design Museum will open in April at the academy's Xiangshan Campus.
One of its opening exhibitions will feature items influenced by Bauhaus - the transient but globally influential German art school.
The Xianghsan event will be the first stop of a worldwide tour to mark the centennial of the birth of the Bauhaus school in 2019.
Another exhibition will feature Italian fashion design. And Portuguese architect Alvaro Siza, a Pritzker Award winner who designed the museum, will also have a solo exhibition at the museum.
"We have to embrace other cultures as well to form new ideas based on our own perspectives," Xu says.
When it comes to technology, Xu says the country needs to usher in a consciousness of cultural traditions into the field.
"My grandson is only 2," says Xu. "He can hardly understand this world. However, each time a mobile phone rings, he will immediately respond and tell his mother to answer it.
"This generation is heavily reliant on digital devices. It's our duty to develop new formats to help them not only accept traditional culture but to pass it on."
In a major development, the construction of a new CAA campus is set to begin in Liangzhu, a town in the west of Hangzhou, in April. Xu sees it as a way to connect the past with the future.
Liangzhu is a hub of an ancient culture dating back 5,000 years, whose relics are nominated as China's candidate for UNESCO World Heritage status in 2019. Liangzhu is close to Hangzhou's new development that focuses on scientific research.
Xu is planning another experiment. He aims to start a design school at the campus, where art students learn natural sciences for a semester.
"This is to combine science and fine art to encourage crossovers," he says.
"Liangzhu represents original Chinese culture. And with the help of the sciences we can create (original culture) now."
Contact the writer at wangkaihao@chinadaily.com.cn