Liu Guanzhong, a professor of industrial design at Tsinghua University, criticized the over-enthusiasm in China for foreign design honors, such as the Red Dot Design Award, which allows applicants to participate in several categories and charge fees at different stages of the competition.
"Chinese design should inspire our own creativity. It is a question of strategy," said Liu.
He used Chinese high-speed rail as an example of why it deserved a Gold Prize more than a temperature sensing wine bottle cap.
Chinese high-speed rail recently received yet another honor at a presentation ceremony for the 3rd Design Intelligence Award in Hangzhou on May 8. A new generation of power concentrated electronic multiple units (EMUs) shared the top DIA Gold award together with a parking robot from Hangzhou-based company Hikvision.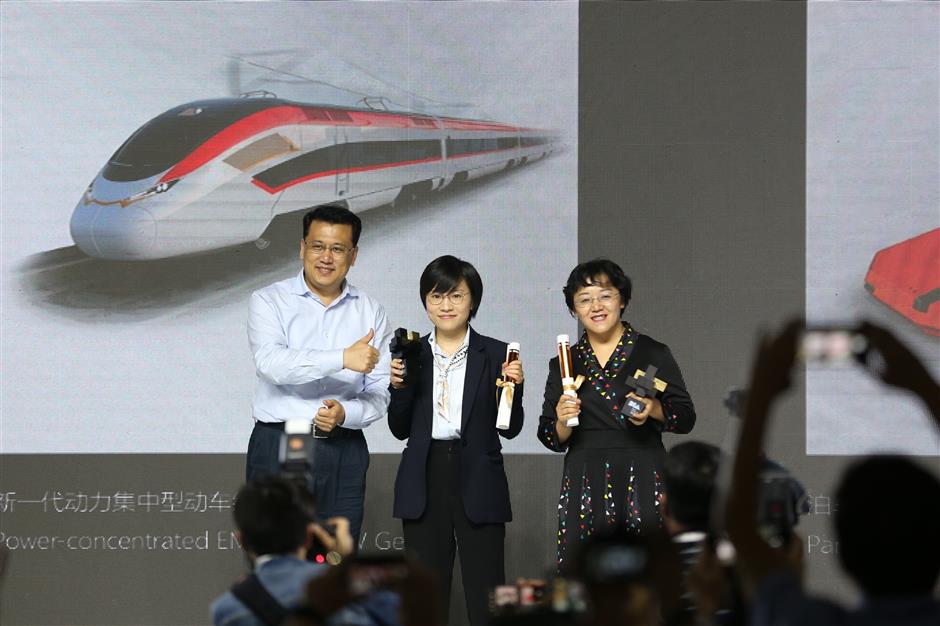 Governor of Zhejiang Province Yuan Jiajun (left) presented the awards to the DIA Gold winners.
The new high-speed train offers a more comfortable riding experience and with little noise. Compatible on both the main lines and passenger-only lines, the design makes an effective use of the existing railway system and the money saved on the project can be used for extra infrastructure investment.
The DIA award was launched in 2015 by China Academy of Art. It hopes to attract and promote top industrial designs in China as the nation goes through its transformation from one of the world's biggest manufacturers to a creativity booster.
The competition this year attracted 7,721 entries from 41 countries and regions. The top 42 finalists covered a wide scope of objects, from footwear, sanitary facilities, to industrial equipment, transportation and robotic gadgets. The designs are being exhibited in the CAA Art Museum until Sunday.
Jury member Hideichi Misono said a design "should be target-oriented. I ask myself one question: 'What kind of social problem inspired his/her design? Has the designer found the real cause of the problem?'"
And sometimes the problem could be very small.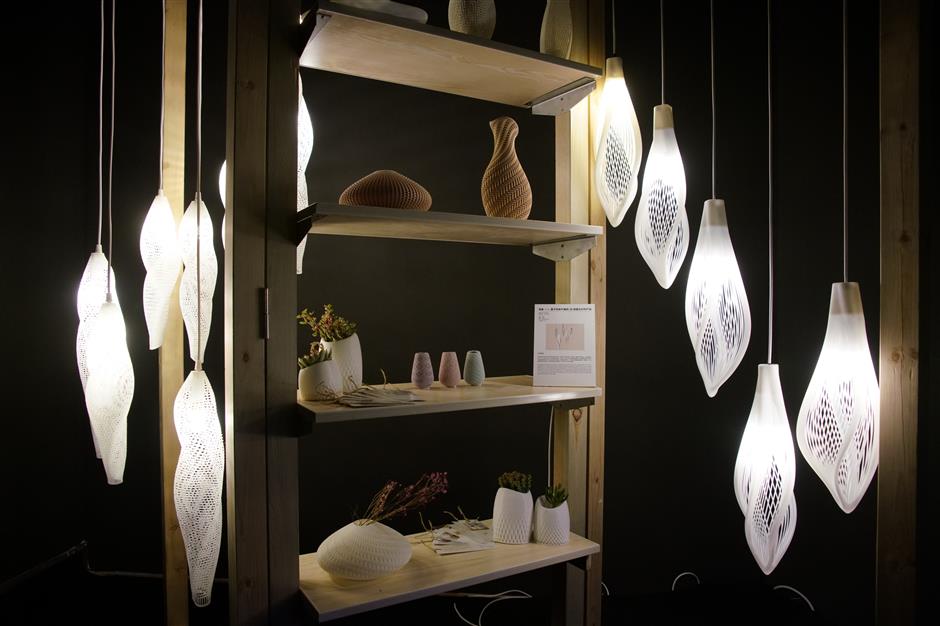 Art of weaving, a 3D printed light installation inspired by traditional handcrafts of bamboo-weaving.
One contestant, Gong Huachao, a DIA Excellence receiver, found it was really inconvenient to type numbers on his MacBook without a numeric keypad in 2011, so he decided to make one.
The idea was to turn the touchpad into a 5X4 grid of a calculator keyboard by placing a transparent detachable film onto it. Once the app is downloaded you can connect the device to your laptop.
Gong and his team went through over 50 types of materials and production processes by seeking collaborations with factories in Shenzhen, Beijing and Taiwan. The final product is a 0.15-millimeter mineral glass film with metallic ink printed on the back.
In order to make the numbers and symbols on the keypad resistible to wear and tear in frequent uses, Gong was introduced to a big factory in Shenzhen.
Everything seemed to be perfect at first: the German equipment, constant room temperature and dust-free workplace. But the workers did not have the necessary skills to accomplish the strict durability requirements Gong had asked for.
Gong finally found another factory in Shenzhen that could afford a larger production capacity.
"Maybe some people (in the past) did make inferior products at a comparatively low price. But I think — at least for our generation, in the companies we have set up — the products shall be very endurable, trustworthy and long-lasting, just like the German ones," said Gong, whose invention is now available in major Chinese e-stores such as JD.com and Taobao. Consumers can also try them out in Apple and Microsoft's offline retail stores.
For a young graduate like Gong, the success did not come easily. He chose to launch his product on the crowdfunding website Kickstarter.com in 2017 to accumulate his first customers and a word-of-mouth marketing online.
"This is a new trend now (to crowdfund online). Every year there are thousands of students graduating from art schools. They have good ideas, but that does not guarantee venture capital immediately. So crowdfunding is an ideal tool to get your products publicized," said Gong.
The result has been compelling. It took 45 days to get enough backers on Kickstarter.com to begin the project before the product sale ranked first among all projects in the computer accessories category.
Another highlight of the competition has been the accentuation on high technology. Artificial intelligence and virtual reality are visible in the top winners. The organizers also set up a new special award "Design Shining" to encourage applications in 3D printing.
"3D printing helps to prototype easily. Now you can 3D print with metal, even precious metal and porcelain. The technology is not new, it is already 25 years old. But I think it's still at the beginning of its potential as far as the result is concerned," said Mathilde Bretillot, another judge.
The opening of the exhibition also worked as a matchmaking meeting for connecting good designs with appropriate business resources.
"Matchmaking has always been there over the past two years. This year we put it in the exhibition halls to show that our system and services are totally free and open to the industry," Hang Jian, vice president of China Academy of Art, told Shanghai Daily.
Hang admitted that matchmaking was not easy.
"A new production line means new investments and uncertain results. Average businessmen are just content with making money with their present products," said Hang.
"Vibram Furoshiki," a pair of wrapping shoes made of rubber, polyurethane and textile, wins the DIA Excellence Award.
Among the top 42 designs that are being exhibited, 24 have already been put on the market, including Japanese designer Masaya Hashimoto's revolutionary footwear "Vibram Furoshiki," which was also conferred with the DIA Excellence Award.
The shoes concept was developed from Furoshiki, a traditional Japanese way of wrapping items with cloth. It was born out of a question raised by Vibram's president, who Hashimoto works for. He asked, "How can we reduce the number of production mold?"
"So I was thinking, I have to make flexible-structured soles. And I came up with the idea of Furoshiki, which is used to wrap anything, bottles, underwear and bentos," said Hashimoto.
Working as a concept manager, he got full support from his company through every stage of development from production to marketing.
"Our company is a bit strange. The president insists on innovation. Every finished product should have some kind of innovation. We are not interested in making many finished products. It should be original," Hashimoto said.
And originality is probably an indispensable element in design that both the participants and the organizers agree on.
"Design should become the impetus to our industry upgrade. Bootlegging and knockoffs can't do that. We must have our own original designs," added Hang.