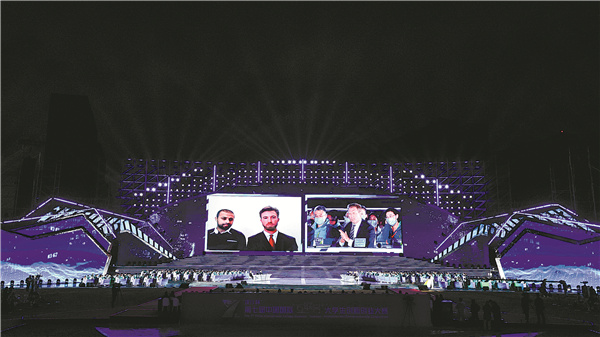 A scene from the finals of the China International College Students' Internet Plus Innovation and Entrepreneurship Competition, held at Nanchang University in Jiangxi province last week. [Photo provided to China Daily]
Wu Jianbin could always spot a good opportunity, even when he was in primary school. That was when he had an idea that he wanted others to buy into, literally. Wu, who was one of the top prize winners in the undergraduate category at an international college students' innovation and entrepreneurship competition, recalls that when he was a primary school student, he purchased goods which couldn't be found in the school shop and sold them at a profit to his classmates.
Born in Putian, Fujian province, a place that prides itself on a vibrant culture of entrepreneurship, Wu says all his parents talked about at family dinners, since he was little, was how to do business.
"I was influenced by my parents and I also wanted to prove to them that I can be a successful businessman," says Wu, 22, now a senior student in landscape installation art at the China Academy of Art in Hangzhou, Zhejiang province. "Moreover, I want to do something meaningful and make a difference through art innovation and entrepreneurship."
His team, with him as a founder, won one of the "first prizes" at the China International College Students' Internet Plus Innovation and Entrepreneurship Competition held at Nanchang University in Jiangxi province. The team's project, which focused on the multi-scenario application of virtual characters, was also granted "the most creative" award.
The virtual economy has seen significant growth in business applications and opportunities, including in areas such as artificial intelligence celebrities, AI assistants and interactive games, due to the COVID-19 pandemic, according to Wu.
Although his team only started the project in March, sales revenue has reached 1 million yuan ($155,000) and winning a top spot at the national competition means he was eligible for the bonus, interest-free loans and rent subsidies from local government to open a company.
"More importantly, the experience gained from competing at the university level all the way to the national level, the interactions with other participants, and guidance from teachers and judges, are all valuable for my future as an entrepreneur," he says.
To Wu, innovation does not come easily and it needs to be accumulated and constantly polished to turn into something that can truly make a difference. "Luckily I am still very young and I can afford to make small mistakes and learn from them," he adds.
A total of 9.56 million students from 4,347 universities in 121 countries and regions participated in this year's competition, up 51 percent from last year, says Wu Yan, director of the Ministry of Education's Department of Higher Education.
Held every year since 2015, and with 25.33 million students taking part, it has become an influential competition, Wu Yan says.
More than 15,600 foreign students, including those from Harvard, Oxford and Cambridge, participated in the event online, marking an increase of 74 percent year-on-year.
This year's event has increased the number of projects for the finals from 1,600 last year to 3,500, while the number of top prize winners jumped from 158 last year to 320 this year, he adds.
From those 320 top prize winners, six teams are selected to compete for the grand prize, the runner-up and third-place awards.
A team from Nanchang University won the grand prize at the competition on Friday night.
The team, focusing on the industrial use of a phosphor-free light emitting chip on silicon substrate, scored 1,380 points out of a total 1,500.
A team from Beihang University was named runner-up with 1,350 points. Third-place was shared by four teams from Zhejiang, Stanford, Oxford and Columbia universities. Due to the pandemic, teams from the Chinese mainland attended the national final in Jiangxi, while those from Hong Kong, Macao and Taiwan as well as international teams participated via video link.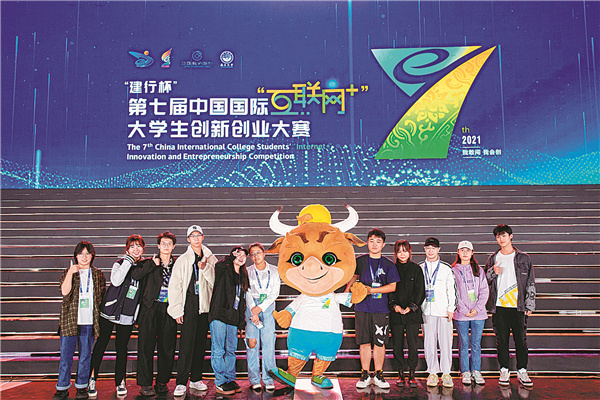 Some contestants and volunteers pose for pictures after the event. Students from 4,347 universities in 121 countries and regions participated in the contest. [Photo provided to China Daily]
Zhao Heqi, 28, leader of the team from Nanchang University, whose project aims to create a healthier lighting environment for people, says shortsightedness is a major problem among Chinese students.
Traditional phosphor-based LED lighting comes with severe blue lights, which can cause shortsightedness and trigger insomnia, and his team's phosphor-free lighting products can help solve those problems, Zhao says.
He started the project in 2019, founded the startup last year after graduating with a master's degree from the university, and the company's sales revenue has reached 130 million yuan so far, says Zhao, now a doctoral student. His ambition is for the company to reach 1 billion yuan of sales revenue and be listed on the Shanghai Stock Exchange's Science and Technology Innovation Board by 2025.
Zhao Jiawei, a senior student in mechanical engineering and automation at Beihang University, was also a top prize winner. His team's project centered around maglev capsule robots, less than 2 centimeters in diameter, that can be used in gastrointestinal monitoring.
He started the project with his classmate Wang Xinyang, under the guidance of their teachers, when they were freshmen. They have completed the development of the robot and the product is set to go into production next year.
Although it is difficult to balance schoolwork and entrepreneurship, Zhao Jiawei says it is worthwhile when the project pertains to something they are passionate about. "Participating in the competition helped us reflect on the project and it's also a good opportunity for promotion and advertisement," he says.
The Chinese government has attached great importance to the encouragement of college students in pursuing innovative entrepreneurial careers. A recent guideline issued by the General Office of the State Council, China's Cabinet, required colleges to hire qualified external professionals to serve as mentors and place greater emphasis on teaching entrepreneurship qualities and innovative thinking.
It also asked local governments to create a more favorable environment for startups and innovative projects, stressing the importance of improving financial support by exploring new funding channels and introducing helpful financial policies.
One of the judges, Fang Hairong, also executive deputy director of Beijing Jiaotong University's undergraduate school, says she was impressed with the students' performance and overall ability. She noticed that there have been many such competitions to encourage innovation and entrepreneurship among students, allowing them to hone their skills while starting their businesses.
Her university, for example, has required all undergraduate students to attend innovation and entrepreneurship courses and it also offers free space and subsidies for their projects.
Xu Luting, director of the employment guidance service center at the China Academy of Art, led the contestants of his university, including Wu Jianbin, and two teams were among the top prize winners.
Art students are creative and innovative, Xu says, as the innovation and entrepreneurship awareness among his students is strong. Around 40 percent of the university's graduates are self-employed. To turn their creativity into business opportunities, a sound environment encouraging entrepreneurship is required, he adds.
The university opened an entrepreneurship school in 2015. And it also offers relevant courses to all students, as well as free access to its innovation and entrepreneurship bases, according to Xu.
"With proper guidance and encouragement from professionals and teachers, even a small course project can be turned into a business," he says.