China Academy of Art has partnered with FC Barcelona to create special posters featuring star football players to celebrate this special time of year.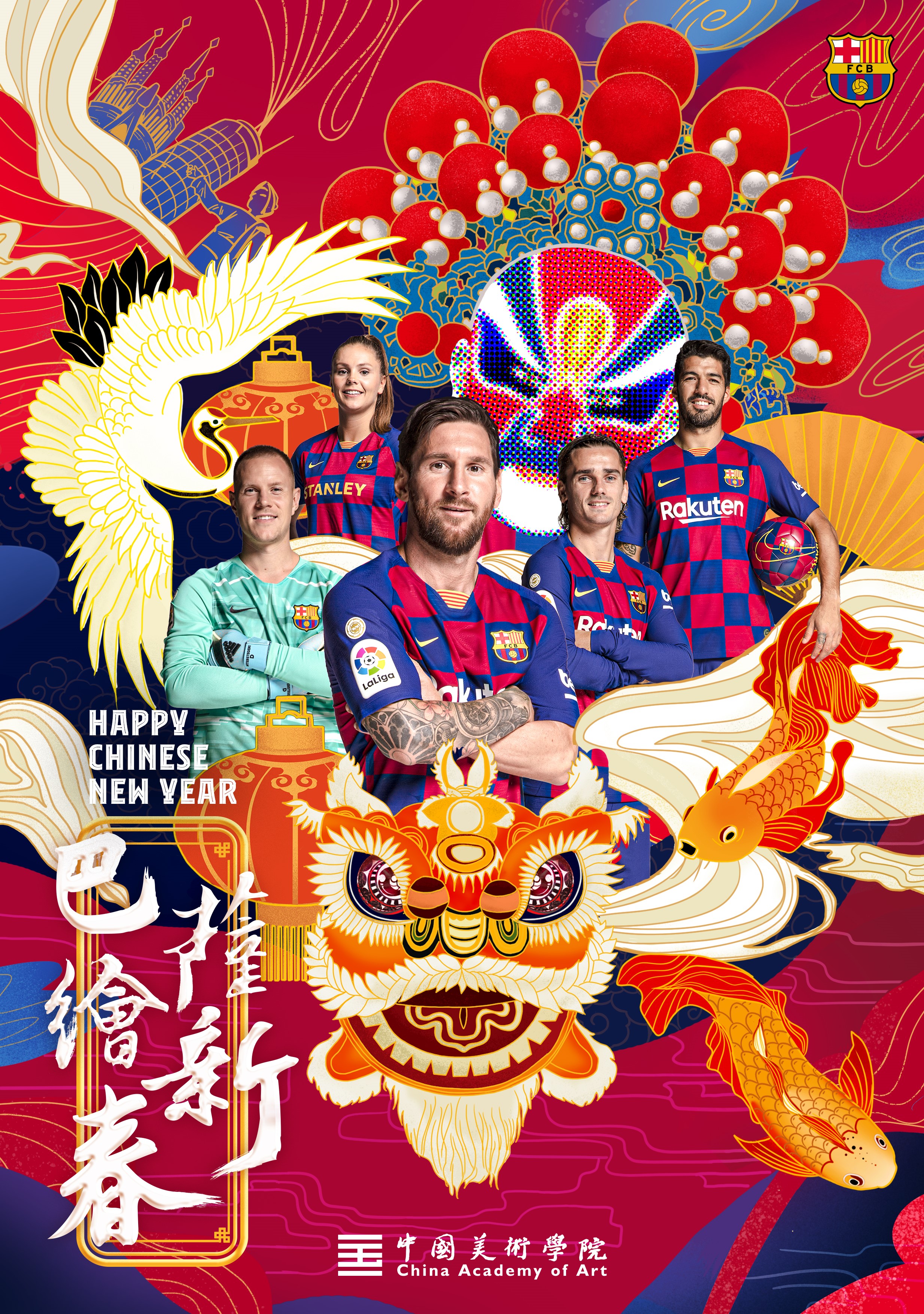 China Academy of Art has partnered with FC Barcelona to create special posters featuring star football players. The designs feature traditional Chinese symbols and images, creating posters that are faithful to both the FC Barcelona brand and China's culture and heritage.
This is the first time a top European football club has released co-branded works with the CAA to design creative local festival graphics. The series of posters will be distributed on official Barça channels during Chinese New Year.
The posters feature five FC Barcelona football stars, each with traditional Chinese symbols including dragons, qilins, lion dances and cranes. The visuals also include elements of the Peking Opera, the most famous form of Chinese opera. In the Peking Opera, individual characters play specific roles within the narrative and the meaning of those roles is conveyed by face painting and costumes. In the posters, the Peking Opera facial make up is tailored to each Barça player to represent their individual characteristics. Intrinsically connecting the Barça players with the heroes of the Peking Opera blends traditional Chinese culture and Barça values, giving fans a special and meaningful Chinese New Year greeting.
Lionel Messi's Peking Opera facial make up represents the 'Fortune Hero'. The poster depicts dragons, carps and lotuses, which show strong characteristics of leadership and fortune. Luis Suárez is depicted as the 'Longevity Hero', meaning brave and tenacious, which is transmitted through lions, flags and clouds. Marc-Andre Ter Stegen represents the 'Wisdom Hero', illustrating enthusiasm and vitality. Antoine Griezmann's poster is decorated with azure dragons and white tigers to depict the 'Happiness Hero', illustrating enthusiasm and vitality. FC Barcelona Femení football player Lieke Martens' image is the 'Victory Hero' and pictures the red crowned crane and peony to symbolize longevity and honour. The posters are colourful, lively and festive, expressing best wishes for the new year.
Toni Claveria, Head of APAC for FC Barcelona said:
"Collaborating with a prestigious organisation such as the China Academy of Art gives our Club the opportunity to learn about Chinese traditions, art and culture. Together, we've created a concept that is inspired by a shared long-standing commitment to art in its various guises, whether that be on the football pitch at Camp Nou or in art school at the CAA. We hope that it resonates with our millions of fans in China and those around the world who celebrate the Chinese New Year"
The CAA was among the first art academies to set up a design major at the beginning of the 20th century. Its long history witnessed its evolution from pattern, to crafts and finally to modern design. The academy embraces the development of modern design, emphasizing a combination of research of art and technology.
Bi Xuefeng, Dean of School of Design, China Academy of Art, said:
"Art brings joy and the top-level football game is an artistic form. Over 120 years, FC Barcelona has become a world-renowned football club that has cultivated numerous stars and made great achievements. The Club is now beloved by hundreds of millions of fans. Since it was established 91 years ago, the China Academy of Art has become a world-class art school that has promoted the development of Chinese art and is considered a 'palace of art' for art enthusiasts. This collaboration combines China's most important festival, Chinese New Year, and the world of football through Chinese patterns that transmit auspiciousness, blessings, wisdom, strength and bravery through creative posters. The collaboration serves to promote both the Club and its players as well as traditional Chinese culture. It is a fusion of art and mutual cross-border learning of culture."
About FC Barcelona
FC Barcelona was founded more than 120 years ago in 1899, and is unique in many ways. The club is owned by its more than 145,000 members and can boast of being the most successful club in Europe over the last fifteen years. Since season 2004/05, they have won four of the Club's five Champions League titles and ten of their twenty-six domestic league titles. Due to its very special personality, 'Barça' is recognized as being 'more than a club'. The team's distinctive style of play is projected around the world by the best players and coaches of their time in combination with club's famous reliance on home-grown talent.
All of this goes hand in hand with its ongoing ambition to become the most admired, beloved and global sports institution on the planet. This mission is supported by such core principles as humility, effort, ambition, respect and team-work, while the club is also famed for its commitment to society, which is channelled through the Barça Foundation and its work to educate children through the positive values of sport. Such unstoppable growth in recent years has led to a global reach of more than 340 million fans and made FC Barcelona a world leader on social media.
About China Academy of Art (CAA)
Founded by renowned educator Cai Yuanpei in 1928 in Hangzhou, China Academy of Art (CAA) was the first academy with a complete academic program in China and can be credited with commencing a new era of fine art education in the country. CAA values both cultural heritage and innovation in art education withthe school motto of "Strength, Reverence, Mastery, Exploration". As both a research and teaching university, CAA forges ahead in its goal of building a world-class institution that is constantly evolving and innovating with the times.