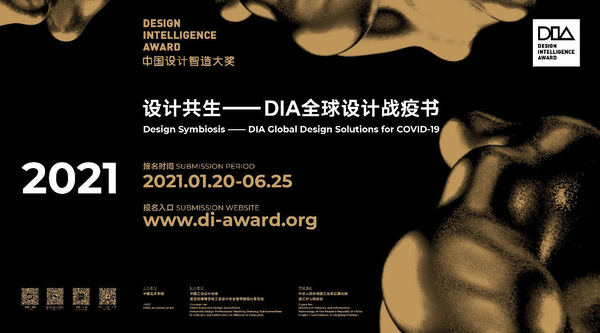 1 About DIA
Design Intelligence Award (DIA) is an international academic award in industrial design established in China, 2015. It is a platform for evaluation, promotion and communication of design, an accelerator bringing innovation to the industry and the future.
DIA returns to the origin of design with human intelligence, advocates the core value of "Intelligence of Humanity, Wisdom of Life, Fusion of Tech & Art, Brain of Industry", and plays the role of bringing world-wide creativity to an intelligent future.
2 Awards Setting
There are Awards for the winners in both the Product Group and Concept Group. In the Product Group, two Gold Awards are given, each for 1,000,000 RMB, eight Silver Awards, each for 200,000 RMB and 10 Bronze Awards, each for 100,000 RMB. In the Concept Group, two Future Talent Awards are given, each for 80,000 RMB and eight Young Talent Awards, each for 30,000 RMB. Meanwhile, Honorable Mention Award(around 300 prizes) will be selected from across both Groups(the actual quantity shall be subject to the evaluation results).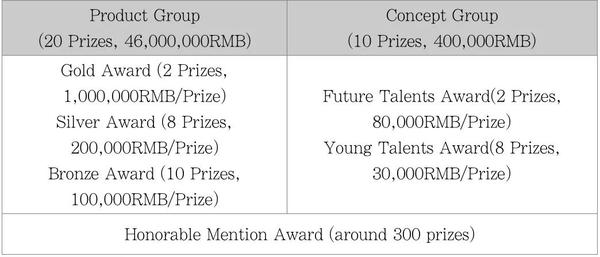 3 Participating Entities
3.1 Participants
Both Product Group and Concept Group are open to original works from individuals, enterprises, universities/colleges and institutions.
3.2 Entry Requirement
Product Group: Entries should have been launched within the previous two years or, if not yet on the market, a fully functioning prototype needs to be available for viewing. All kinds of design such as product, software, integrated service and etc. are open for participation.
Concept Group: Entries ideas which have not been launched but which need to be capable of being manufactured and brought to market. Cross-border innovation is encouraged and a physical prototype or complete design-concept video is required before the final evaluation this year.
DIA Committee observes the right to adjust the group and category of entries in case of confusion.
4 Entry Categories
The design has the characteristics of inclusiveness and cross-domain. The category of DIA is mainly classified according to the core innovation points of the entry.
4.1 Product Group
4.1.1 Cultural Innovation
Recognising and emphasizing culture as the internal driving force behind the idea, we look at the contemporary revival of traditional culture, the design crafting of the idea, the value created both in cultural IP and in societal terms.
This category is open to products and services from the fields of packaging, fashion, furniture and lighting, tableware, stationery, souvenirs and social innovation, etc.
4.1.2 Living Wisdom
Recognising the way we live as a driving force behind the idea, we look at the wisdom they bring to daily life, intelligent approaches to everyday appliances and how they care for vulnerable groups in society.
This category is open to products and services from the fields of digital electronics, household appliances, kitchen and bathroom, elderly care, mother and baby, personal care, pets supplies, toys and musical instruments, sports and leisure, disaster prevention and protection, application of new technologies and materials, etc.
4.1.3 Industrial Equipment
Recognising production as a driving force for the idea, we look at how equipment has been upgraded or transformed, how strategic new industries are emerging and how production systems are optimized for maximum efficiency.
This category is open to products and services from the fields of transportation, medical, construction, agriculture and forestry, military, office, mechanical tools, robots, etc.
4.1.4 Digital Economy
Recognising big data as the driving force behind the idea, we look at how digital is changing the way we live our lives, how the service industry is changing and how traditional industries such as manufacturing and agriculture are being upgraded.
This category is open to digital products and services from the fields of smart cities, smart business, smart medical care, smart education, smart community, AI, industrial internet and block chain technology.
4.2 Concept Group
Whilst the entry categories for this group are the same as for the Product Group, there is always a different theme every year. This theme of 2021 is "Design Symbiosis"—Scientific and technological innovation is the first driving force of economic development, and design is an effective way to graft sci-tech into the real world. DIA hope to explore the symbiotic value of design, seek the concurrence of design with new technology, new materials, new technology and new equipment. Designing for the world, creating the future.
Facing the new normal of COVID-19 and human coexistence, DIA will continue to focus on "Challenge Post Covid-19", where we will be looking for new revolutionary design that makes a real innovative transformation for the future. In particular, DIA encourages innovation that goes beyond the shackles of tradition and self-constant barriers, promotes taking crisis as the source of future design value and subversive transformation. Design has no boundaries.

5 Registration
5.1 Registration
DIA receives applications directly from individuals, institutions, colleges/universities. It also receives nominations directly from the Design Experts. Direct applications will be reviewed in the Preliminary Evaluation phase. Nominations from the Design Experts, which have been approved by the DIA Committee, will move directly to the Final Evaluation phase. To ensure impartiality, Design Experts who nominate will not then be able to judge their nominations. The same entry is not allowed to apply in both the Product Group and Concept Group categories.
Applications should register/login via the DIA official website (www.di-award.org ) or via a local representative(if any).
5.2 Entry Collection Period and Fees
The Application system has been open from Jan. 20, 2021 and will close on June 25, 2021(24:00, UTC+8). Unfortunately late submissions cannot be accepted.
No Application fee will be charged, however we ask that any logistical, insurance or customs clearance expenses incurred by Applicants be borne by them.
6 Evaluation
6.1 Evaluation Process
Independent evaluation will be adopted for Product Group and Concept Group that are both composed of Preliminary Evaluation (online image and text review) and Final Evaluation (on-site entry demonstration and videos review).
6.2 Evaluation Criteria
DIA evaluation criteria includes 3 layers: (1) The fundamental layer emphasizes the "Principles of Design", covering functionality, aesthetics, technicality, user-experience and sustainability. (2) The advanced layer emphasizes the "Direction of Design", spanning contribution to humanity, industry and the future. (3) The top layer emphasizes the "Impact of Design" in regards to social influence and industrial development.
6.3 Jury
DIA invites authoritative experts from all over the world. In order to highlight the cross-border integration of design and strengthen the comprehensiveness of evaluation, in addition to inviting experts in design, experts in other related fields such as science and technology, commerce and media are also introduced to be DIA judges. Winners of previous Product Group will have the opportunity to be invited as judges of Concept Group.

7 Winners' Benefits
7.1 Trophy and Certificate
All the award winners will receive a trophy and a certificate. Those winners whose works are displayed in the annual DIA Exhibition will also receive a DIA Exhibition Certificate. Those winners whose works are donated to DIA Committee will receive DIA Collection Certificate.
7.2 Logo Usage
Winners will be authorized to use DIA logo freely on the awarded entries.
7.3 Industry Communication
All winners will be invited to participate in DIA Award Ceremony and other series of activities, and to engage in face-to-face exchanges and cooperation with representatives globally from various industries such as design, academic circles and media, etc. At the same time, they will have the opportunity to be the speakers of "D·WILL" Lectures.
7.4 Industrial Support
DIA set up Industrial Transformation Service Group with professional industry organization and experts, to provide industrial transformation support including project landing, financing and investment, entrepreneurship guidance, product design refinement, marketing promotion, sci-tech achievements transformation, etc.
7.5 Media Promotion
DIA has established global promotion network with hundreds of mainstream media covering a variety of fields and channels. Internet broadcast of DIA events such as Final Evaluation and DIA Ceremony, and priority right of media interviews for winners will further enhance the social influence of excellent design.
7.6 Exhibitions
All award-winning entries will participate in the annual exhibition and have the opportunity to be displayed in other domestic and overseas exhibitions.
8 Agenda