Fred Thomas Martin, a famous American artist, art critic and educator, former president of San Francisco Art Institute, an old friend with China Academy of Art for half a century, passed away at home on October 8th, 2022, at the age of 95.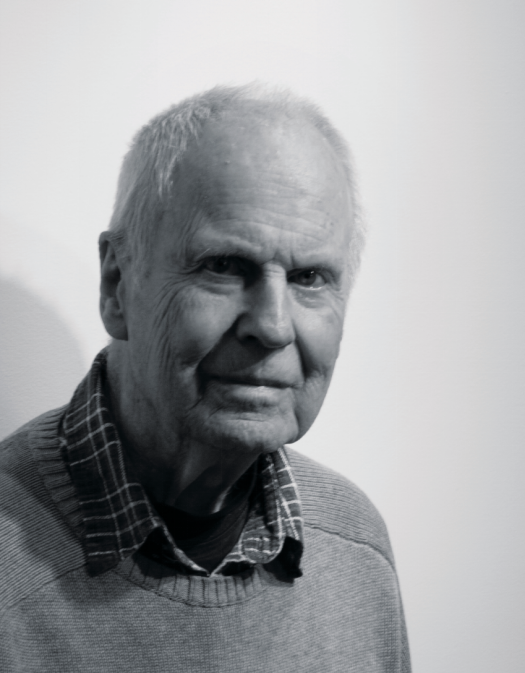 Fred Martin,1927-2022
Fred Martin was born in 1927 in San Francisco, California. He studied in the art department of University of California, Berkeley and received his Bachelor of Art degree in 1949. Five years later, he obtained his Master of Art degree in San Francisco Art Institute (formerly known as California School of Fine Arts) in 1954. He was taught by Mark Rothko (1903-1970), the most famous American abstract painter. Meanwhile, he immersed himself in learning traditional Chinese culture, and interpreting Chinese philosophy and traditional Chinese aesthetics with local characteristics during his decades-long career. As one of the most important figures in abstract modernism art, during his 70-year-long artistic career, whether in cubism in his early years, or in abstract expressionism after his middle age, his works show Eastern philosophy, which have been exhibited in the well-known museums including San Francisco Art Museum and Whitney Museum since 1949.

A long walk across the mountains of forever, 1973-2003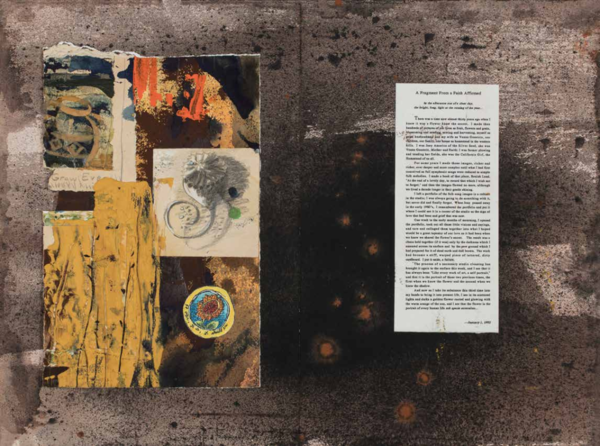 Fragments, 1992
Professor Fred Martin has devoted himself to art education for over 50 years and has been active and driven the development of the San Francisco Bay Area art scene. As the former president of San Francisco Art Institute for over 20 years, he has dedicated to the intrinsic value of art and its vital role in shaping and enriching society and the individual. Meanwhile, he has been committed to educating artists who will shape the future of art, culture, and society; meanwhile, he has fostered creativity and original thinking in an open, experimental, and interdisciplinary context. Adhered to his philosophies of art education, which has been put into practice for more than half a century, Fred Martin led San Francisco Art Institute to become a center of art education and art creation on the West Coast of the United States.
As a messenger of cultural exchanges between China and the US, Professor Martin had a deep connection with China for over 50 years. He not only witnessed, but also promoted the evolution of contemporary art creation and art education in China Academy of Art. In the 1980s, as one of the earliest Western art groups for cultural exchanges, Professor Martin led his team visiting Zhejiang Academy of Fine Arts (now the China Academy of Art) for several times. Since then, an era of cultural exchanges between China Academy of Art and other art academies in the US started and the San Francisco Art Institute also became the earliest art academy to conduct the Sino-US exchanges. Professor Martin has made outstanding contributions to the cultural exchanges between China and the United States in contemporary art, humanities, talents and art education. At age of 90, Professor Martin donated 36 pieces of his significant works and manuscripts during nearly 70-year career to the Art Museum of China Academy of Art. These works not only show Martin's life-long artistic achievements, but also are important documents for Chinese artistic circle to study on American contemporary art.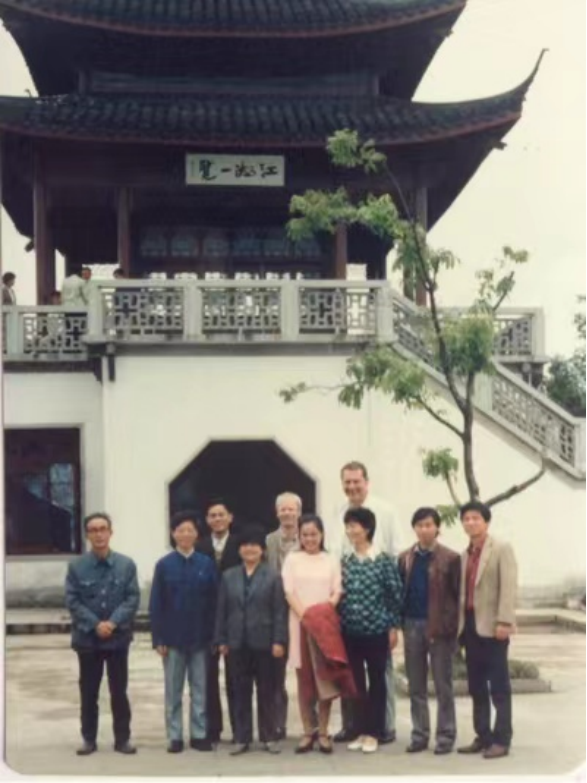 Professor Martin visited Zhejiang Academy of Fine Arts (now the China Academy of Art), in 1988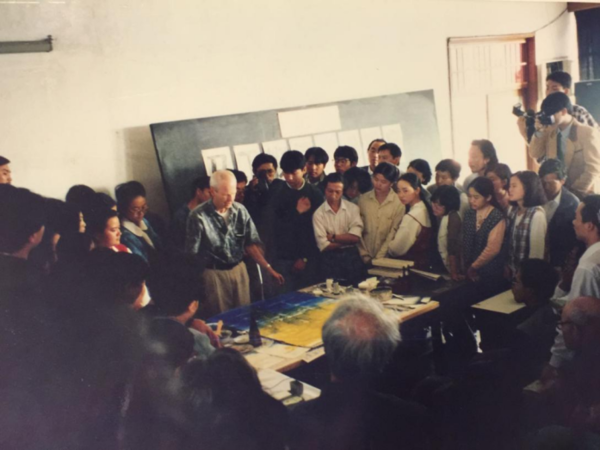 Professor Martin gave lessons in China Academy of Art, in 1988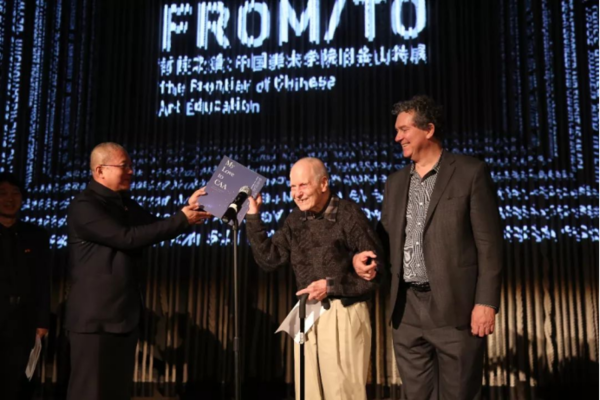 Professor Martin at the opening scene of the "From/to: the Core Scene of Chinese Art Education" exhibition, in 2018
In the preface of his album, Professor Martin interpreted his philosophy as follows: "And all of it comes always together in each work of art complex or simple, for it is in the touch of the hand and its place in the image that all the artist's life comes together to make the work that is a gift to the future." For him, art exploration never ends.
After more than 70 years, all experience of art and life comes together to form his personality, broad and long thought about—a tapestry of East and West, of past and now and tomorrow, mirrored by his works, indicating the present and the future.
May the soul of our admired artist and great friend, Fred Thomas Martin, rest in peace and the spirit embodied in his works are unbroken and immortal.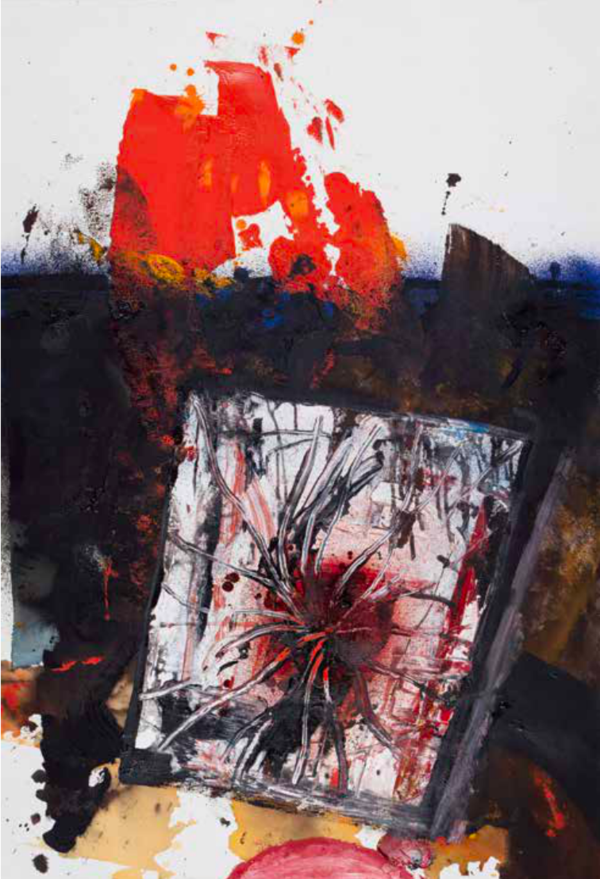 A gift to honor my 30 year love for CAA,2000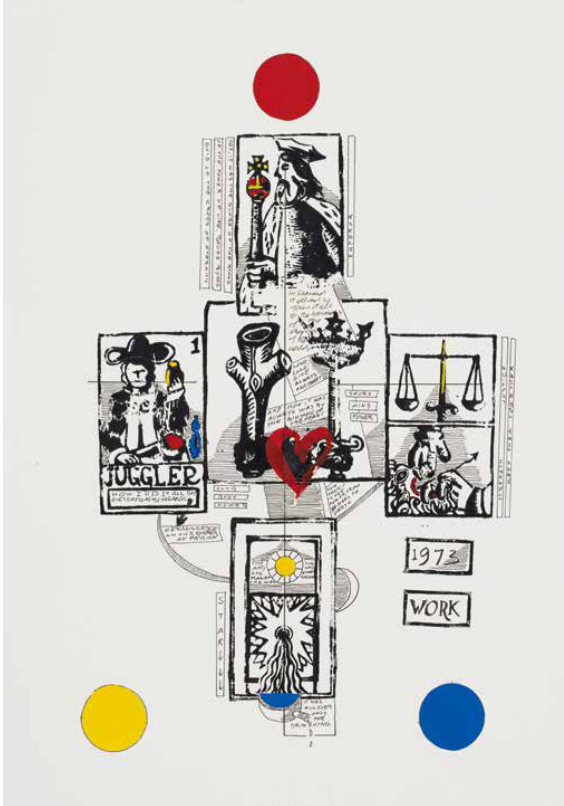 1973 Work, 2005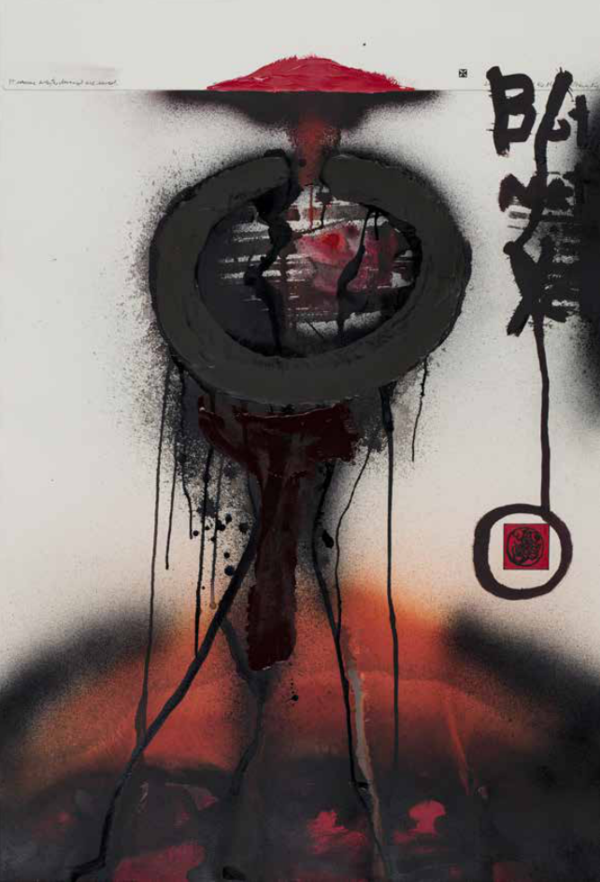 It means only the damned are saved, 1999
Notebook of Fred Martin in 1980's
Notebook of Fred Martin in 1980's